TECHNICAL SPECIFICATIONS
CardiAid CT0207RS/CT0207RF
Defibrillation System
Operating Mode:
Automated (CT0207RS: one button operation, CT0207RF, full-automatic).
Wave Form:
Biphasic, current based.
Energy delivery:
Adjusted to patient impedance, programmable (factory settings).
Delivered energy – Adult mode:
170j (Average for 50 Ω at low level energy),
270j (Average for 50 Ω at high level energy).
Delivered energy – Paeditric mode:
50j (Average for 50 Ω at low level energy),
75j (Average for 50 Ω at high level energy).
Shock Sequence:
Constant or escalating, Programmable (factory settings).
Charging Time:
Typically < 10 seconds*, maximum < 15 seconds.*
ECG Analysis system
Analysis Time:
Typically <10 seconds.*
Derivation:
II
Asystole Threshole:
<0,160 mV
Specificity NSR/ Asustolie:
>95**
Sensitivity VF / pVT:
>90**
Reaction to implanted Pacemaker:
Normal cardiac pacemaker rhythms are not detected as shockable.
Movement detection:
Checks signal quality, gives acoustic warning at patient movement.
Operation
Operating Elements:
i) Automatic switch-on when the cover is opened.
ii) Flashing shock button (one-button operation for CT0207RS, full-automatic operation for CT0207RF).
iii) Info-button.
Info Mode
Announcement of the elapsed time and number of shocks since device started, when info-button is pressed.
Display Elements:
Self-explanatory illuminated symbols (traffic light principle). Device status symbols (for self-test result).
Defibrillation Electrodes
Range of Application:
Adult electrodes for patients :8 years / 25 kg. Paediatric electrodes for patients 1-8 years / <25 kg.
Delivery status:
Disposable, self-adhesive, single-use electrodes; ready-to-use, sealed and packed with connector outside pouch.
Polarization:
Not polarized (Exchange acceptable).
Active Surface Area:
200cm2 (adult), 80cm2 (paediatric)
Cable length:
130 cm
Shelf Life:

Adult and paediatric: 36 months from the manufacturing date
<!– tech pdf
Technical Specifications

Arabic
Technical Specification Arabic
Chinese
Technical Specification Chinese
Dutch:
Technical Specification Dutch
French
Technical Specification French
German
Technical Specification German
Indonesian
Technical Specification Indonesian
Italian
Technical Specification Italian
Polish
Technical Specification Polish
Russian
Technical Specification Russian
Spanish
Technical Specification Spanish
Swedish
Technical Specification Swedish
Thai
Technical Specification Thai
Web (English)
Technical Specification Web (English)
–>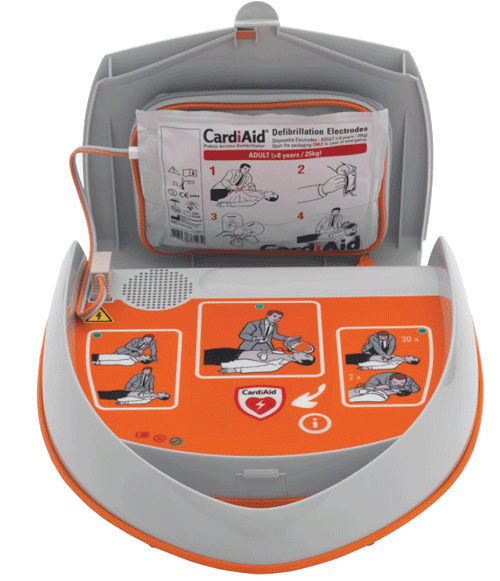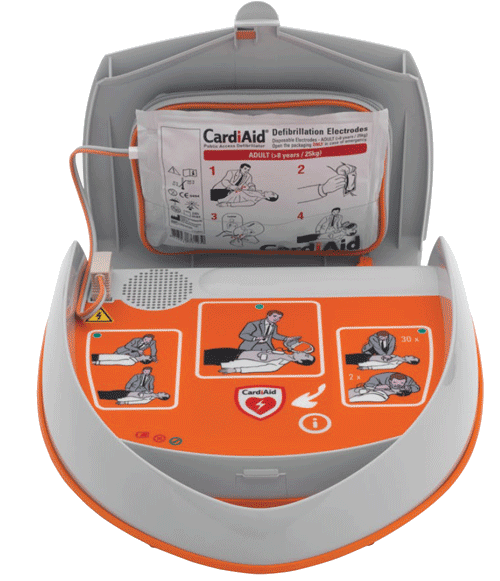 Data Management
Event Documentation:
Automatic recording of ECG and event data in internal memory up to 4 sessions with a total maximum duration of 2 hours 50 minutes.
Data Transfer:
Bluetooth (only for authorized service providers).
Event Review and Device Programming:
Via bluetooth connection to PC with Cardiaid Monitor Software (only for authorized service providers).
Self-test
Schedule:
Automatic; daily, monthly and when device is opened.
Timing:
Programmable (factory setting)
Scope:
Battery, electronics, software, charging.
Energy Source*
Type:
Alkaline
Capacity:
Up to 210 shocks.
Monitoring Capacity:
Up to 20 hours
Stand-by period:
42 months
Environmental Conditions
Operation:
i) Temperature: 0˚C to 50˚C
ii) Humidity: 0-95%
iii) Air Pressure: 572-1060h/PA
Storage and Transport:
i) Temperature: 0˚C to 50˚C
ii) Temperature: -20˚C to +70˚C (max. 2 weeks, without battery & electrodes)
ii) Humidity: 0-95%
iii) Air Pressure: 500-1060h/PA
Standards
Device Class:
III
Resuscitation Protocol:
ERC, ILCOR 2020
Norms:
IEC 60601-2-4: 2011+A1:2019
EMC:
EN 60601-1-2: 2015+A1:2020
Free Drop:
IEC 60601-1: 2006 + A1: 2013+AC:2014+A12:2014+A2:2020
Protection Class:
EN 60529:1992+A2:2016 (Dust protected, protected against water jets)
Dimensions and Weight*
Dimensions:
301 x 304 x 112mm
Weight:
3,0 kg (including battery and electrodes)
* measured with a new battery pack,  20˚C. Values can vary within a non-significant tolerance and are dependent upon storage and environmental conditions, frequency of use, pre-configured settings and the shelf life of the product.
** The algorithm and the board of CardiAid CT0207 AED offer the optimum combination of sensitivity and specificity. (Published in "Automated analysis of electrical signals of the human body for detecting of life threatening cardiac abnormalities", Igor Tchoudovski, Mensch and Buch Verlag, ISBN 3-89820-984-9, Pg 141)
Cardia International, at its own discretion, reserves the right to make changes pertaining to the technical features and the accessories of the device.
Cardia International, under no condition, shall be liable for any fault of spelling and/or writing in any and all instructive and informational data, documents, images given above and any direct, indirect, accidental, secondary legal or penal loss or damages may arise from them.